Thumbs up! It's Wednesday and you know what that means!? FOOD!
This is a collection of meals, snacks and snap shots over the last week! It's been crazy busy, but I can't say I'm not enjoying it. I love the Ithaca fall so much. My long weekend runs have been so enjoyable now that the leaves are changing and crunching under my sneakers.
We'll start with:
Brunch at Agava
The sauce was chipotle tomato – totally a game changer. All the ingredients were fresh and most of them locally sourced. I love this restaurant and this was my first brunch there.
"Bread Basket" with biscuit, jam, butter and cornbread

Working Breakfasts
This is what my average morning routine looks like. Noshing on some yogurt or oatmeal while I'm on my way to class or work. This morning I was jamming out some logos for a really exciting project I'm working on.
as always, the ideas start in the sketch book (with the help of some super strong iced coffee.)

Lunch
The past week or so I've been working away at my monster container of rainbow salad. This has seriously saved my life during the morning when I pack my food for the rest of the day.
Quinoa, Bell Peppers, Peanuts, Tomatoes, Pepitas, Red Cabbage, Black Beans, Cannellini Beans & Onions dressed with a sesame seed oil & vinegar mix that morning. 
Dinner

Weird combo right? Absolutely delicious. I guess this is what happens when you just pull out random ingredients and play!
Roasted Rosemary Delicata Squash and a side of Rainbow Salad (yes that's a monkey's face)
Snack Attack

1 small chunk of frozen banana, sprinkle of chocolate chips (about 10 or so) & tbsp of peanut butter – microwave for 40 seconds- stir in 4 oz of plain greek yogurt – mix all together

Frozen banana, almond milk, pumpkin puree, cinnamon, handful of oats, pinch of powdered ginger
In French press- make double strength coffee (4 tbsp ground coffee per 6 oz of water) let steep for 15 minutes – store in container in the fridge overnight – pour half cup over ice – fill the rest with water or milk (or soy or almond milk)
Place desired amount of roasted peanuts in food processor, blend until smooth. Add cinnamon, honey, vanilla or whatever you can think of to "spice" it up a little – blend again until ingredients are evenly distributed
This made me smile:
The view of Cornell on my walk home
What I WISH I was eating
This is from an all vegan, gluten free bakery in London at the Camden Market. I still follow their instagram and the post tons of pictures every day. It's my favorite form of torture. Also the guy commenting has the right idea.
Hope you're loving fall as much as I am!
Thanks as always to Jen for hosting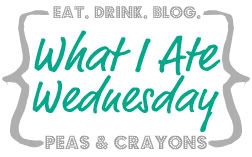 Your Turn!
The most scrumptious thing you've eaten this week?
What something you've been craving?
What are your go-to snacks/lunches? (always looking for inspiration- links welcome!)