Have you ever had a stupid-busy week? These kinds of weeks call for stupid simple meals that satisfy. Lately my sweet tooth has been ragin' so I like to indulge with plenty of apples, banana soft serve and the occasional treat (see below what I splurged on this week).
These are just a collection of what I've been eating over the past week.
Breakfasts
Pumpkin Spice Pancakes with Raspberry Jam
(not pictured: the pancakes that I nibbled on while making more pancakes)
Steel Cut Oats with Walnuts, Peanut Butter, Blueberries, Strawberries and Coconut
Plain Greek Yogurt with Strawberries, Raspberries, Coconut Peanut Butter, Chia Seeds & Muesli 
Lunches and Dinners
Egg Sandwich from Dolce Delight: Egg, Cheddar, Tomato, Guacamole & Kale with an Iced Red Eye
Cutest little cafe in Ithaca. You walk in and it's like your grandmother's kitchen. Love.
Rosemary Garlic Braised Butternut Squash, Avocado, Almonds, Broccoli and Red Cabbage

Sauteed Broccoli & Kale with Red Cabbage and Almonds

Monster Rainbow Salad (for lunches during the week):
Red Cabbage, Bell Peppers, Black Beans, Cannellini Beans, Almonds, Cucumber and a little bit of ginger.
To keep it interesting I mix up some different dressings throughout the week.
Sweet Potato, Butternut Squash, Avocado and Garlic Hummus
Treats
Apple Crisp with Cinnamon Ice Cream and Caramel from Apple Fest
Apple Fest is an annual celebration of all things apple. I know. It's basically Christmas. I didn't spend enough time there this weekend because of work, but I did get my hands on this sucker after waiting in an line for over 20 minutes. So. Worth. It.

Banana Soft Serve (frozen banana with almond milk in food processor) with Coconut

Soy Iced Latte from Ithaca Coffee Company
This is one of the best iced lattes I've ever had. ICC serves up some seriously rich and delicious espresso. Lucky for me I'm spoiled for great coffee here in Ithaca.
Banana Cherry Soft Serve

Just for Fun:
Scenes from the 5k Glow Run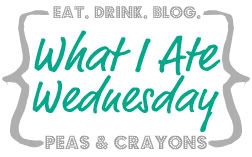 Happy WIAW- Thanks to Jen from Peas and Crayons for hosting!
Your Turn:
Do you ever suffer from a sweet tooth?
If so how do you indulge or divert?
Are you still drinking iced coffee?