Welp, it's no secret- this is my first WIAW in quite some time! I've definitely missed posting, reading, and sharing weekly eats over at Jen's fabulous blog, but it was important to take a little break from the fun foodie party. I'll be the first to admit that photographing almost everything you eat can be a bit exhausting and while comparison is not at all what WIAW is about, it's hard to avoid.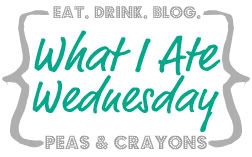 That said, I'm ready to get back at the weekly cooking, snapping and sharing – especially because it helps me stay on track as I start training for my 2nd half marathon! Yesterday at the gym something clicked and I finally feel like I'm ready to crank up my workouts & runs and make my last semester of college the best. ever.
This week I'll share a full day of what I ate now that I'm back in my humble Ithacan abode, but I'll also share some killer bites that I ate while I was home and traveling to New York City over break.
What I Ate Yesterday
Fage 0% with almond butter, reduced sugar jam, chia seeds, coconut shavings & pecans
Coffee with soy milk
Arugala Salad with avocado, pecans, pepitas and roasted butternut squash

Super Quinoa Salad: Carrots, Red Cabbage, Quinoa, Pecans, Coconut, Edamame with a sesame peanut dressing (recipe to come)

Banana "ice cream" with drizzle of almond butter
I also nibbled on an apple, 2 graham crackers and some crystallized ginger.
On the Road
Egg white breakfast burrito from Daily Paper on the Cape

Adorable place outside Boston called Root Food
Kale, cucumber, apple, lemon & ginger
Crispy Eggplant Caprese – normally I'd skip the bun but this one was out of this world good!
Beautiful Latte from Little Collins in NYC – seriously, if you get the chance it's on 56th and Lexington such a cool little spot!
I got PB&J with toasted coconut
Went back the next day and had banana bread with ricotta, strawberries and honey comb
Question Time:
It's been a while so I'll keep it simple and ask you:
What have you been eating lately?