First of all, I just wanted to thank everyone who read and supported my post the other day. It's been something that's weighed on me for a long time and I was always so afraid to admit it to myself and those close to me. Sharing it here, with others, has really helped me put the disorder both in perspective and in the past. I'm currently writing the first part of my recovery story and I hope to publish it on Friday.
BUT- without further adoooo here's what I ate on my first day of 1/2 marathon training.
Good Morning Coffee with soy milk

Fage 0% with banana, almond butter, coconut  & chia seeds
After going to my one class today (intermediate drawing) I needed a pre-workout pick me up: A red eye with cinnamon and soy milk from Ithaca Coffee Company

Speaking of workout- today I had 3 miles on my schedule, but I felt great so I ran 4.3 and did an arm strength circuit.
To break the monotony of the treadmill I like to walk for 1 minute (4 mph), run (7-7.5 mph) for 2.5 minutes and sprint for 1.5 minutes (7.5-8.5 mph)

Kale with red cabbage, edamame, carrots, avocado & pomegranate seeds with Trader Joe's balsamic glaze (so many textures & colors!)
After lunch I had work (I'm a tour guide for the school). I love giving tours, but today was -9 degrees up here in Ithaca so it was a 'lil brisk!

Then went shopping for art supplies and a new car scraper (clearly one was more fun to buy than the other)
By the time I got home I was ravenous- It was one of those "I'm too hungry to cook" kind of meals. A sweet potato with PB & Co's cinnamon raisin pb, butternut squash soup & brussels sprouts with pesto. A weird combo? Perhaps, but it did the trick!
Late-night snack- while I normally don't like to have yogurt twice in a day it was just one of those days and I haven't been grocery shopping in a while so Chobani it was! (and I don't regret it)
Happy Wednesday Everyone!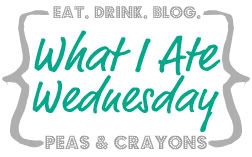 Question Time:
Have you ever eaten the same food twice in a day?