Happy Wednesday everyone. It's finally starting to feel like Spring around here. I don't know if it's the extra sunshine, but I have been noticeably happier.
I tried something brand new yesterday for breakfast yesterday to put a new spin on eggs. The recipe was called "Oat-less" oatmeal, and at first I was really skeptical, but after making it, I think I have a new recipe for my arsenal. The texture isn't exactly that of oatmeal, but it's more oaty than typical scrambled eggs. I added vanilla extract and cinnamon to bring out the sweet flavors from the banana. They key is to cook it on low heat so as not to over cook your "foatmeal" (fake oats) and give them a softer, fluffier texture.
Grain Free "Oatmeal"
Ingredients:
2 whole eggs
1 ripe mashed banana
3 tbsp of ground flax seed
1/2 cup of unsweetened almond milk
1/2 tsp of vanilla extract
Directions:
Peel and mash banana in a small/medium size bowl.
Add both eggs and almond milk then mix until thoroughly combined.
Mix in vanilla extract and cinnamon.
Lightly coat small frying pan with coconut oil.
Pour mixture in pan and cook on med/low heat for about 5-8 minutes or however long it takes to create a soft scramble.
Top with fruit of choice, almond butter or just plain.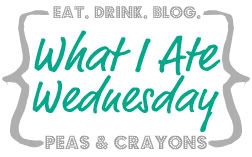 Breakfast
Grain-free "oatmeal" with almond butter and a side of grapefruit.
Lunch
I was planning on having a pre-workout snack, working out then eating lunch after, but I ended up working longer than I thought and didn't have time for a normal lunch. As a result my workout was pushed back and I ate my dinner after instead.
Basically, what I'm saying is I normally would eat more for lunch. (incidentally, I also had the same snack after dinner because I was still hungry)
Dinner
Brussels sprouts with tilapia and avocado mash
Like I said, I also had another apple and homemade larabar a few hours later because I was so hungry.
Yesterday I took a spin class for the first time in a while. It was a spur of the moment decision that I'm so happy I made. It kicked my butt and felt like a great workout and cross training for my runs. Working out with other people definitely helps push me harder than I could on my own. Recently, Fran and I have been going to barre classes which is a lot like pilates and is really really really tough. I go away feeling sore but refreshed.
So this whole confession thing? I realized I forgot to mention how I messed up on the Whole30 during my first week. I didn't leave it out on purpose, I just totally forgot when I was writing my recap. While I was traveling and staying at a hotel I had oatmeal for breakfast. Unfortunately, there was nothing Whole30 at the hotel breakfast (except a grapefruit) and I knew I'd have to do a six hour drive by myself so I made an exception. I was pretty bummed I had messed up but I didn't let it derail me for the day.
Have a lovely Wednesday!
Your Turn:
What are you most excited for about spring?
Is it starting to look like spring where you are?