I'm a creature of habit. Although I love trying new things, once I find something I like that's basically all I want until I get sick of it. This happened with greek yogurt for breakfast. There's plenty of evidence here, here and here.
But recently I've been on a huge smoothie kick. The nice thing about smoothies is that even though they have a common denominator there's SO much you can do with them. It's an easy way to pack a ton of nutrition and deliciousness into one meal. I like making mine super thick so I have to eat them in a bowl with a spoon. YUM.
So rather than give you a typical day of eats here's a taste of my recent smoothie creations.

The Green Mango: Coconut water, frozen mango, spinach, frozen banana


Pretty in Magenta: Frozen bananas, cherries, raspberries, protein powder, almond milk
The Deep Blue: Frozen banana, blueberries, zucchini, spinach, cherries and protein powder, Chocolate Hemp Milk
Vanilla Blueberry: Banana, blueberries, vanilla protein powder, vanilla extract, Almond Milk
She Ain't Pretty: Banana, Spinach, Raspberries, Cherries, Zucchini, Protein Powder, Chocolate Hemp Milk 
Very Berry: Raspberries, Blueberries, Banana, Mango, Vanilla Protein Powder, Almond Milk

Razzle Dazzle: Frozen Banana, Raspberries, Vanilla Protein Powder, Almond Milk
Hope these can inspire some delicious smoothie action. I have a really delicious recipe coming for Friday, spoiler alert it's another smoothie.
Over the weekend I got a chance to go to Montauk in the Hamptons with my bestie, Fran. It reminded me a lot of my hometown(island) Nantucket. It was the busy season but the beach was relatively undisturbed. It felt incredible to be in the salty air and salt water, not to mention get a little more sun than I usually get.
On our way back to Jersey we stopped at Levain bakery and I had arguably the best cookie of my life. It was a simple chocolate chip walnut, but the gloriousness of this cookie came from it's crispy outside and gooey inside.
Slightly random, but I had to share: when I stopped at Wegman's yesterday I impulse bought this incredible lunch box. I don't particularly need a new lunch box, but this guy was too incredible to leave at the store.
Happy Wednesday All!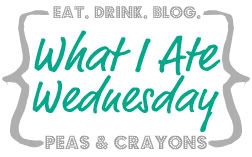 Your Turn:
Favorite smoothie combo?
Do you like to have your smoothies thick or drinkable?